by Eleanor Costello
Brighton Dome and Brighton Festival
Young people face new challenges every day. From navigating the complexities of an ever-changing Internet culture to fighting for their future in an era of climate crisis. Art provides opportunities for everyone to make sense of the world, to test our boundaries and let our imagination thrive. Children benefit from having the opportunity to read books, go to theatre shows and to make their own art.
The acclaimed poet and Brighton Festival 2020 Guest Director, Lemn Sissay said; "Art saves lives, it literally saves lives. Art is how we translate the human spirit. That's why you have art and religions. That's why people sing. That's why we read poems at funerals and weddings, we need some bridge between the spiritual, the physical, the past, the present, the future."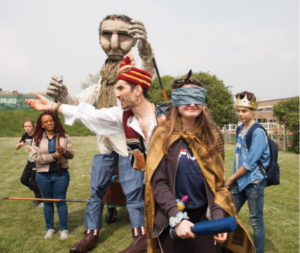 Through events like Brighton Festival, young people can explore, discover and participate in the arts. For 30 years the Children's Parade has officially marked the start of Brighton Festival, with over 5,000 participants, including 3,473 school children, stepping into show stopping costumes they have designed and made themselves. Around 10,000 people come along to see the parade and be part of the largest annual children's event in the UK. The parade is a unique event produced by community arts organisation, Same Sky, which offers thousands of young people the chance to come together in creations they've designed around a central theme, giving them a sense of belonging. In 2020, the Children's Parade theme is Nature's Marvels, offering a platform for participants to think more about the world and environment around them.
Stories fire the imagination, invite us to empathise with and understand others, give children the creativity needed to face the world and even the tools to change it. Young City Reads is an annual Brighton Festival and Collected Works CIC reading project. A book is selected for primary school children in Brighton & Hove, Sussex and beyond to read and discuss, culminating in a final event with the book's author at the Festival in May. In 2019, over 3,000 pupils took part in free weekly activities. For 2020, the chosen book is Malamander by Thomas Taylor, featuring a daring duo Herbert Lemon and Violet Parma who team up to solve the mystery of a legendary sea-monster. This is a chance for schools across the county to foster a love of reading in young people and give support to teaching staff to think outside the box with their curriculum.
Hilary Cooke, Brighton Festival Children's Literature Producer says; "Children's book events are an opportunity to turn the private activity of reading into a shared experience. Being in a room with a new (or favourite) author and a group of young readers is quite magical, with laughter, imagination and surprise. Illustrators drawing live on stage create another layer of creativity that is beautiful to watch (and possibly my favourite thing)." Due East, Hangleton and Knoll Project and the community steering committees enable local residents to make their vision come to life in Our Place, a Brighton Festival event that has been running for three years. Pop up performances take place across Hangleton and East Brighton with a community event in each area. Seeing arts and culture being celebrated and given a platform in their own neighbourhood opens the door for young people to think differently about the places they live in.
Brighton Festival offers opportunities for young people in Brighton and beyond to experience groundbreaking, original and spectacular performances by international artists. Australian company, Gravity & Other Myths bring a new jaw-dropping circus show bound to blow the minds of aspiring acrobats, Drag Queen Story Time gives children the opportunity to be who they want to be with a LGBTQ friendly storytelling, and hilarious theatre show Slime allows two to five year olds to squish and squelch their way through a tale about a slug and caterpillar.
May is a time of spectacular celebration across the county, with Brighton Fringe, The Great Escape, Artist Open Studios and Charleston Festival in addition to Brighton Festival's jam-packed programme.
Supporting the next generation of art-goers is integral to Brighton Festival's spirit and this year's programme aims to bring a variety of events for children and young people – from infants to Instagrammers. Children of all ages can discover, create and participate in the arts, giving them unexpected and enriching experiences that can be shared with their friends or family. Many events are free, others starting as low as £5 and there are often family offers so the whole clan can come along.
Head to www.brightonfestival.org today to find out what's happening at Brighton Festival from 2nd to 24th May 2020.