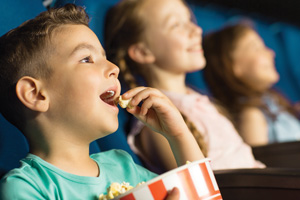 We are lucky enough to have some fantastic theatres in the county and it is important to support local theatres if we want to keep them around. Some of our theatres have some wonderful shows on for children over the next few months so it's a great time to visit them.
Seeing a live show is an escape from daily life for a couple of hours – whatever your age. Children can fully immerse themselves in what they are seeing on stage. Apart from the pure enjoyment of seeing a show there are many other benefits of taking your children to see a show.
Seeing a live performance encourages children to be more empathetic and to put themselves in the shoes of others. They can imagine how it will feel to have the family of the boy on stage, or what it feels like to be a soldier, or even to live as a refugee. Theatres encourage you to step into the shoes of a character – building empathy, understanding and inclusivity.
Many of today's theatre shows stem from books. For children who have read the books, there's nothing quite like watching their favourite characters come to life. It's also a great way to expose children who haven't read the books to some fantastic and imaginative literature.
Lots of new shows that are aimed at children tackle issues that children many find hard to talk about such as mental health, friendship, sense of belonging, bullying and family breakdowns. You will be amazed at some of the conversations that seeing a show can prompt. Taking children to the theatre can give parents a way to explore difficult themes together and a way to begin those vital conversations.
For little ones, theatre is simply a lot of fun. There's so much to watch, sing along to and laugh along with. Even if children are too young to understand verbal dialogue they will still be stimulated by the visual side of the show and shows that are aimed at toddlers will be deliberately short and more interactive with lots to keep young children stimulated.
Some parents find taking their children to the theatre a daunting experience; will they be able to sit still long enough? Will they be quiet and what happens if they need the toilet during the show? When theatres put on shows for children, they realise that you can't predict
how your child will behave and are far more accepting of the odd interruption from a child who needs the toilet or who can't manage to sit down for that long.
Shows for children usually have age recommendations. These aren't set in stone and act as a guide for how old audience members should be. These recommendations act much like certificates for films, but also give you a sense of whether your child will understand the plot of the show.
Get children excited about going to the show in advance and talk to them about the kind of behaviour that is expected. Make sure you arrive in plenty of time for the inevitable toilet queues and to get settled comfortably in your seats.
Many theatres now offer relaxed performances for children with autism who may find a show too overwhelming. During these performances, the house lights often stay up, loud noises are made quieter and there's sometimes a chill out area to sit in if children find it too much to take in.
A trip to the theatre should be accessible to all, and theatres are working hard to make theatres welcoming and enticing for children. A theatre show provides an escape for all ages and you get to sit back while someone else is in charge of the entertainment!