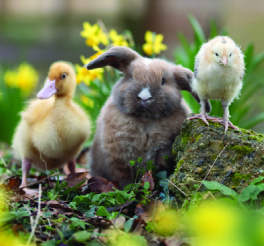 This spring, Nicola Henderson, CEO of Godstone Farm in Surrey, explores the learning opportunities that are on the doorstep for many of us, and the adaptations we can make in everyday life if we don't want to be stuck to a timetable or even use an exercise book.
As we've seen over the past year, learning is not just about being in the classroom; and who would have known that our children's education could take so many forms and be delivered in so many ways. Cue the cries of parents saying they never thought they would actually have to BE the teacher! Perhaps unconventional ways of learning are here to stay, but above all we have realised that being outdoors is good for us on so many levels.
Homework doesn't have to be at your home!
How about learning about another little creature's home? There are so many habitats in the great outdoors and not all of them are deep in the countryside. From birds in their nests, to hiding hedgehogs and mice in hedgerows it's great to get children to spot where animals might be living. Now that hopefully, the weather starts to improve, there's opportunity to sit out at dawn and dusk to watch where birds fly to or see if you can spot a tiny nose poking out among leaves. A simple game of matching animals to their habitats can be done wherever you live, as even in more urban areas it's not impossible to find a brave fox. What could he be looking for? And where do you think he might go to sleep?
Changing of the seasons
It's not just signs of animal life to look out for. Spring brings about the most wonderful chance to see colour and shape appear by way of plants and flowers. Can children notice not only what is newly appearing as we start to see more sunny days, but also which plants or trees remained the same through winter? It is likely they know what a Christmas tree looks like, but which other trees can they spot that kept their leaves? As well as noting names, playing games such as finding shapes they know in nature around them can be heaps of fun.
K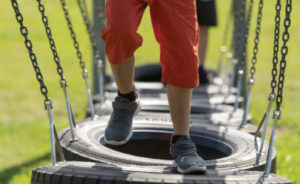 eep active and keep healthy
Even the youngest of children know that exercise and eating well is the key to being healthy, but it's clear from all the farm visitors each year that kids 'just wanna have fun'! Playing is a fantastic form of exercise and if it's outside then all the better. Play equipment is a brilliant way to teach children boundaries, risk taking, and sharing with their friends or being patient to wait in line for their turn. Open outdoor spaces can also lend themselves well to imaginative play. With or without apparatus, children will find a story to become part of. Reading is such a huge part of a child's first school experience, but as they develop their skills its fun to get them re-telling a story and answering questions about what happened, or predicting what might happen next. When you are out for a walk, at a playground or visiting somewhere with gardens what stories can you make up about what you can see? Can you
re-tell it when you get home?
Farm fun
We just can't forget the wonderful signs of new life that can be found at farms at this time of year. Chicks hatching, lambs being born and baby rabbits ready to hop into the sunshine. A farm attraction is a great place to see these exciting babies but also learn about the differences between species, what they eat and how they are kept. Many attractions also offer a behind the scenes experience where children can get up close and hands on with their favourite pets or livestock. Actually taking part is a great way to commit a skill to memory and who doesn't want to learn to muck out the stinky pigs? Other, less smelly jobs are available!
There's so much to be fortunate for as we enter the favourite season for so many. Springtime on the farm or anywhere amongst nature is a wonderful time, and sharing experiences with your children is precious. Its hoped that the majority of learning can stay in school with our wonderful and very valued teachers, but it's nice to be able to extend this beyond the classroom, keep it fun and increase our wellbeing at the same time.
Nicola has run Godstone Farm for three years now, and whilst there are plans to develop the experiences and facilities on offer, she is keen to ensure the farm keeps its heritage and wholesome feel. The Farm continues to follow government guidance so its always best to check the website before visiting for the most up-to-date information.
www.godstonefarm.co.uk