by Stephen McCullough
Regency Ballet School for Boys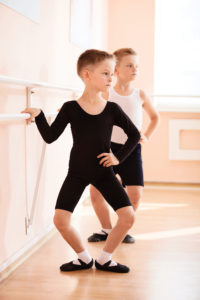 For decades girls have far out-numbered boys in dance while classical ballet, in particular, has long been considered a pursuit for girls and has therefore typically been seen as 'feminine'. This is, of course, far from the truth because male dancers have always been an important part of any professional ballet company. Overcoming the stereotype that 'boys don't dance' is a real hurdle however, there has recently been considerable progress in challenging this concept.
The 'Billy Elliot effect' has had a massive positive effect on boys, inspiring many to pursue the study of ballet in greater numbers than ever before while dancers such as Carlos Acosta and Sergei Polunin, along with increased media attention focused on male stars performing on 'Britain's Got Talent' and 'Strictly Come Dancing', have given dance even greater recognition. With this exposure more boys are realising that dancing can actually be 'pretty cool'. However, there are many others who would love to dance but still don't have the confidence to try.
So why should a boy choose to study ballet, especially when there are so many other 'masculine' sporting activities available to them? Generally speaking, ballet dancers are a lot stronger and more flexible than other sports athletes. As a highly physical artistic sport classical ballet not only nurtures physical conditioning that promotes muscular strength and agility but also improves flexibility and range of motion which encourages good posture and in turn helps in preventing injuries. The physical demands of classical ballet is particularly beneficial for boys who are
very active as it allows them to focus excess energy productively through learning and performing.
Requiring a discipline of the mind, classical ballet also provides a mental workout, enhancing cognitive skills and concentration. Due to the intense mental processing required during class both hemispheres of the brain are engaged which helps to increase neural connectivity. Because several brain functions are integrated at once this multi-tasking activity improves and sharpens co-ordinated learning.
Whatever their age, studying ballet is beneficial for all boys and over time the combination of physical and mental skills can cross-over into other aspects of life. The physical intensity required during class helps to improve physical performance in other sports while increased cognitive function, concentration, discipline and perseverance often helps during school and throughout life. Alongside the knowledge and skills required to perform, ballet also helps dancers to develop an understanding of movement as a means of artistic communication, which in turn teaches them to show emotions through their body language.
Choosing to be a dancer may be an unusual career choice but is a brave decision for any boy as it requires energy, focus, perseverance and above all, a passion and a drive to succeed. With encouragement, hopefully a new generation of boys will 'get into ballet', because we need more male dancers. The lack of male dance teachers, however, often means many boys participating in a ballet programme are rarely taught by one. It is good for boys to work with a variety of teachers during their training, and although not essential it is certainly an advantage for boys to have a male dance teacher not only in terms of technique but as a strong, positive role model to emulate and inspire them.
Ballet may look very graceful and easy on stage, but the amount of skill required to perform is huge and at times can be mentally demanding. However, with a supportive network of family and friends a boy is far more likely to succeed. We want boys to enjoy dancing, surrounded by other like-minded males who have the same interest in dance and even if a boy isn't destined for a career in dance studying ballet is not only fun but an enjoyable, challenging activity that offers a superb all round education that teaches many useful life skills.
Regency Ballet School for Boys offers classical ballet classes for boys aged 8 -16 and follows the BBO dance syllabus. The school has opened as a response from parents looking for an opportunity for their boys to dance in an environment where they don't feel like the odd ones out.
www.regencyballetschool.com