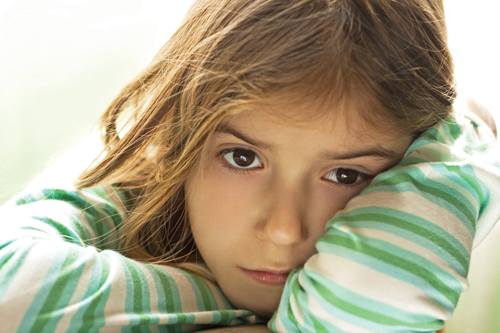 Does your child fear 'failure'? It's a frightening word isn't it and one that puts a sinking feeling in our stomachs.
Today's young people have to navigate their way through a long list of potential failures: What if I fail my GCSEs? What if I don't pass my next swimming level? What if I come last in a race? What if I don't pass my piano grade?
We can't protect our children from the risk of failure and we shouldn't try to. As parents, all we can do is help them to cope with and learn from all these situations.
Children's charity, ChildLine, reports that one of the things children worry about the most when it comes to failing is disappointing their parents. So, reassuring them that you don't expect them to excel at everything can go a long way.
It's worth just taking time to think about whether you are passing on some of your own anxieties or expectations onto them. You can talk to them about possible solutions/courses of action if things don't go as well as they would have liked.
Children's health and well-being practitioner, osteopath Sheree McGregor, says the word 'failure' comes from seeing learning as a two-dimensional scale with success (good) at one end and failure (bad) at the other. A much more positive approach is to look at learning as more multi-dimensional.
Sheree believes we can help our children a great deal by teaching them to look at their results not as 'success' or 'failure', but as opportunities to explore. Exploration means a chance to discover.
In practice, this means encouraging your child to be curious of a result and ask questions such as:
• What have I learned about what doesn't work?
• Can this explain something that I didn't set out to explain?
• What can I do with these results?
• What have I discovered that I didn't set out to discover?
The same approach should be applied to successful results, which can often be a missed learning opportunity – we rarely ask the child holding the trophy what they have learnt from their experience!
She also warns that 'failing' should never be swept under the carpet. Avoiding failure merely heightens the dread of it, so when it does happen it will be felt more strongly and deeply.
Sheree adds: "Helping a child to focus on learning in which there are choices and opportunities allows them to try different pathways so that learning remains a positive experience.
"We, as parents, are often tempted to step in when things become challenging but learning to deal with setbacks helps children develop important life skills such as creative thinking, and resilience."
Sheree is a practitioner for the Sunflower Programme, which uses a pioneering approach to children's health and well-being. The programme focuses on integrating the brain with the body to help children become the best that they can be. Sunflower has helped hundreds of children – many with diagnosed health, behavioural or learning difficulties, others who are underachieving at school and some, who for no obvious reason, need a little extra help to achieve their potential.
Sheree explains: "Resilience is a term that is used a lot at Sunflower. Sunflower believes that building resilience within children that extends to their body, brain and emotional state will enable them to cope better with life challenges and reach their potential.
"Often using the analogy of learning to ride a bike can be useful – when you fall off, you get back on until eventually you can ride without thinking about it. However, the absolute best way to deal with a child during challenging times is to make them feel supported and loved as much as possible."
Mette Theilmann, from Parenting Success Coaching, says listening without saying anything can go a long way towards helping children cope with failure. She explains: "We want the sad feeling to go away so they can go back and be happy again, so we go into over drive to fix. But because of these feelings, we often find it hard to listen and accept what we hear or see.
"It is listening that gives them the greatest comfort to cope with the situation, their feelings and problems.
"Being listened to helps our children accept the situation better and allows them to problem solve themselves – since it's our acceptance of their unhappy feelings/behaviours that can make it easier for them to cope with the situation."
For more information about the Sunflower Programme: www.sunflowertrust.com
To read more Parenting Success tips:
www.parentingsuccesscoaching.com