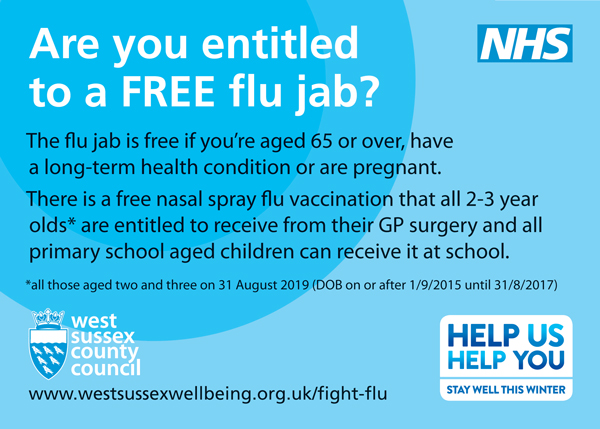 This year all primary school aged children will be offered the nasal spray flu vaccination via the school-based programme. Schools will be sending forms home for parents to complete and return. Clinics are available for children who miss the vaccination in school.
All 2-3 year olds (on 31st August 2019, i.e. those born between 1/9/2015 to 31/8/2017) are also being offered the nasal spray flu vaccine at their GP surgery.
The nasal spray flu vaccine is quick, painless and effective. The vaccine will benefit the child directly by protecting them against the flu, but also helps protect those they come into contact with who may be more vulnerable, for example, young siblings and elderly relatives.
In addition, the flu vaccine will be offered to those more vulnerable to a serious infection including those aged 65 and over, pregnant women, all adults and children over 6 months with an underlying health condition (including chest complaints or breathing difficulties, heart problems, liver or kidney disease, diabetes and anyone who has had a TIA or a stroke), everyone living in a residential or nursing home and anyone who cares for an older or disabled person.
Vaccination is the most effective protection we have against the virus and the best way to protect yourself. It is best to have the flu vaccine as early as possible. The flu vaccine needs to be given each year to be effective.
If you are eligible for your free flu jab, speak to your GP practice or participating pharmacy to get more information. If you are unsure if you are eligible, please visit the NHS flu website where there are full details of everyone who is eligible. If you are not eligible many pharmacies will offer the flu vaccine at a small cost.
For more information visit: www.nhs.uk/flujab or www.westsussexwellbeing.org.uk/fight-flu