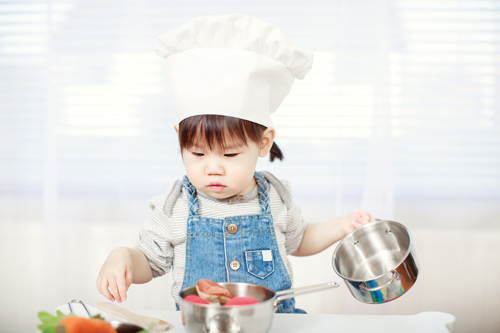 by Antonia Burton
Head of Lower School, Chinthurst School
Children love role-play! Acting out stories, playful manipulation of ideas and emotions, and interacting with each other in imaginary ways are essential for a child's cognitive and social development. Over the last 75 years a number of theorists and researchers have identified the value of such imaginative play as a vital component to the normal development of a child.
Between the ages of one and a half and six, studies have consistently demonstrated that pretend play increases language usage and children's awareness that their thoughts may be different from their friends. Role-play allows children to express positive and negative feelings and fosters divergent thinking, the ability to come up with many different ideas, story themes and symbols.
So how are these benefits harnessed in an Early Years setting?
Plenty of free unstructured play is essential. Children should have the space and time to initiate play spontaneously. It should arise from their own imagination without the direction of an adult and it encourages risk taking and creativity and helps the children to practise collaboration and decision making.
However, structured play, in the form of a themed play corner is invaluable in stimulating make believe games. An 'airport' or 'doctor's surgery' enable children to choose and assign roles and work through any problems that arise. As pretend play progresses, children need to socialise and cooperate with peers and this helps them to learn to control impulses and respect the decisions of others.
Children's communication and language skills also benefit hugely as they must collaborate and listen to each other as they role-play. Children will draw upon pictures built up in their minds from past experiences and recreate these scenes, helping them to solve problems and draw their own conclusions – so developing essential cognitive skills.
Taking on the roles of different characters encourages children to empathise with each other. They gain an understanding of different perspectives which develops their ability to relate to each other. Pretend play offers a safe place to act out real life situations. Children cope with worries by acting them out so role-play gives them a setting to work things through and help them to address their fears.
Moreover, the use of costumes and props in a theatrical way can help to improve a child's gross and fine motor skills. From dressing themselves in a character's costume to putting the props away when the game has finished, role-play builds hand/eye co-ordination as well as developing visual discrimination.
Children often interact with literacy and numeracy skills during pretend play. They may have to count things out as part of their character or 'write' on a notepad. Acting out a favourite story book can be an invaluable aid to comprehension skills too.
The introduction of drama teaching at the age of three and four can really boost the effectiveness of imaginative play and help children to develop soft skills and emotional intelligence. Drama gives children further opportunities to rehearse roles, characters and a broad spectrum of life situations helping them to explore ideas and feelings. Drama promotes self-esteem and gives children the confidence to present themselves in front of an 'audience', all whilst having great fun.
At home, a dressing up box, even if it is just hats and masks, can stimulate a child's imagination and initiate fantastic role-play scenarios. It is important to let your children define objects for use and to allow them to be whatever they would like to be. The benefits really are amazing!
Chinthurst School is a leading co-educational school for pupils agedthree to 11 and is part of the Reigate Grammar School (RGS) family.
Kindergarten children benefit from a bright and spacious environment where their confidence and self-esteemare developed through role play and specialist drama teaching.
At 11, children proceed to a range of top independent and state schools and can take advantage of an early offer entrance arrangement to RGS in Year 5, should this be their chosen path.