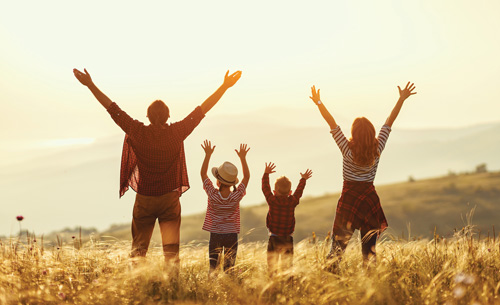 According to a study from children's brand, Stokke, one in four (23%) parents say that their child complains 'all of the time' that they can't spend enough time together. Overall, nearly two-thirds (60%) of children wish they could spend more time with their parents – with the main culprits being work, chores and lack of money to do things.
The most popular quality time activities that parents said their children enjoyed doing the most as a family were:
1. Eating out (41%)
2. Going to the park (41%)
3. Going for walks (40%)
4. Going to the movies (37%)
5. Visiting family and friends (31%)
6. Playing board games (30%)
7. Reading (27%)
8. Swimming (27%)
9. Cooking (26%)
10. Playing games consoles (25%)
Stine Brogaard from Stokke's offers five top tips on becoming closer to your child and ensuring you spend quality time together.
1.Don't take time for granted
Instead of booking playdates for your child when you have the day off, make it quality mother/daughter or father/son time, doing something together that you both want to do.
2. Ask your child questions
Find out what their favourite things to do are. A child's taste changes so much over time so it's important to keep on track and do things that reflect this.
3. Share passions
Find something that you are passionate about and encourage your child to get into it too. Even better if it's something you can do together, whether that's reading, walking, or playing a sport such as football or tennis. This will make it much easier to find time for each other that you'll enjoy. Though read the signs if they don't enjoy it, you can't force these things!
4. Cook together
Eating is something we do every day, so cooking together is a fantastic way to have fun together, give your child responsibility and educate them about food. Give them set tasks, let them choose what they'd like to cook and encourage them. Seeing the family appreciate the food you've created together will be something very special to them and give them confidence.
5. Make the most of the shorter windows of time
We all have very busy lives, always going from A to B whether that's school, work, extra-curricular classes or friends' houses. If you're travelling together, make sure you pay your child your full attention and make an effort to understand what's gone on in their day and share snapshots of your own. The most important thing is to laugh together, and find ways to have fun, wherever you are – no matter how little time you have.
Research has revealed, 87% of parents wished they could spend more time with their children while parents say that less than half (45%) of the time they spend with their child is quality time.
Research of 2,000 parents of children aged under 14 also revealed that when it comes to making key decisions in the household, it appears that the child has more control over what happens today than years gone by. Nearly three-quarters (72%) of people said their child had more control in their home than when they were young, and one in four (27%) admit that their child completely rules the roost! In fact, over half (53%) of British parents said that their child is the bossiest person in the household.