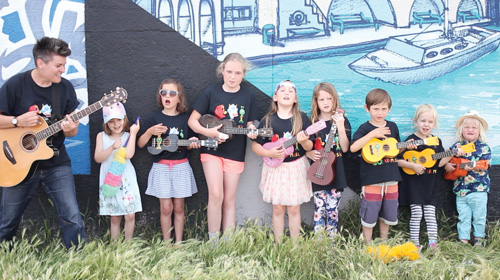 When our children are babies and preschoolers their lives are full of music – songs, nursery rhymes and bedtime lullabies. But when they start school, they seek songs that aren't 'babyish'. From the age of five to 10 children still need great songs to inspire them until they are old enough to find their own style.
Does your child struggle to learn in a conventional way? Even if they don't, music and singing can play a huge part in supporting and even improving learning in subjects such as maths and literacy. Engaging in creative music activities positively affects self-confidence and aspirations. It gives children more motivation and subsequent attainment at school. It even lightens mood, reduces anger and improves behaviour. Handy!
Sadly, we are now seeing more children with mental health issues – even in Key Stage 1. Singing, playing musical instruments, and regularly listening to music are all proven to give significant wellbeing benefits. So music really should be a big part of your family's daily routine.
As parents, carers and music-lovers, what can we do to help our children continue to develop their love of music?
Talk to your child's teacher – how much music and singing is your child able to participate in each day? Could they do more? You may be pleasantly surprised.
Play music in your car (rather than give children tablets and gadgets to fiddle with). Singing together is a positive, bonding experience for adults and children alike.
Choose wisely – pick your favourite songs, or listen to the radio – but be aware of what the song is about. What do the words mean to a child? Can they relate? Are they even appropriate? Children listen to words and song lyrics way more that us adults – believe me, it's all going in – good and bad!
Play soft music in the back-ground at home instead of having the TV on. Chat to your kids about who the song is by, what instruments can they hear?
Spotify is a great source of finding appropriate music for families to listen to together. In the USA they even have a genre known as 'Kindie Music' – Kids Indie – independent artists like me making music that is child-friendly and adult-friendly too!
Learn an instrument – another chance to spend a little more quality time with your child is to learn together. My favourite is the (affordable) ukulele. It's easy for little fingers (I'd suggest from Year 2 upwards) and with just four strings you can play simple songs quickly. Its great fun for adults too!
Music lessons and classes – look in your local area for music projects. You will find basic instrument lessons but also think outside the box, and look up band projects for kids – groups that teach electric guitar, drums, rock/pop singing and so on – very cool and great socially too.
Get singing yourself! We concentrate on our children so much we may have lost touch with music ourselves. Did you used to play an instrument or love singing when you were at school? Get back into it, dude!
The Internet offers us access to amazing online tools to learn instruments, brush-up on old skills and try new things. Search for your favourite music activity and just see what's out there. If you are inspired, you can inspire your children too!
Al Start is a children's singer-songwriter and music specialist with 20 year's experience.She set up her award-winning children's music company Go Kid Music in 2015 to provide more children, schools and families with great music. Find them online for unique music for your family. Live shows, CDs, downloads, songs for learning/teaching, online music clubs and ukulele lessons. www.gokidmusic.com