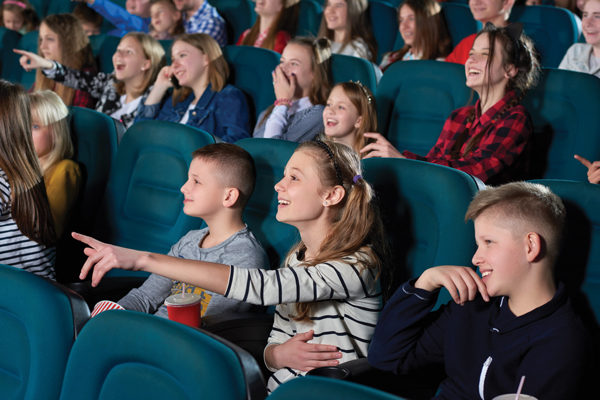 With the summer holidays around the corner, there is a bit more time to treat children to a trip to see a live performance at your local theatre. Younger children will enjoy a show during the day, and you can take older children in the evening without worrying so much about getting them to bed on time.
Many theatres have more shows on for children during the school holidays and may also run workshops for those who want to get more involved.
Live theatre can be a magical and memorable experience but recent research by Birbeck, University of London, has also shown that taking youngsters to watch a theatre performance could provide a host of developmental benefits, including improved emotional intelligence and opportunities to discuss difficult subjects.
It is now widely accepted that play-acting and role-play is a fundamental part of development, allowing children to engage in different personalities, work their way through complex social relationships and navigate emotional issues. Watching a live performance can offer some of the same benefits. Many of the shows aimed at children have an under-lying moral message and subjects such as love, friendship and bullying are often explored in a fun and safe environment, which can bring about unexpected but important conversations once the show has finished.
Going to the theatre as a family is also a great bonding experience. Parents don't have to worry about entertaining their children (it's being done for them on the stage) and everyone can relax, sit back and enjoy the show together. There are all sorts of shows on at local theatres during the summer. Some shows are for the very young and are short and interactive to keep little ones engaged, while others are full length plays aimed at older children. Many shows are now based on children's favourite books such as The Very Hungry Caterpillar or books by David Walliams or Jacqueline Wilson. There are also live performances and sing-a-longs of films such as Frozen or children's favourite television shows. These can be a good first introduction to the theatre for young children as they will be very familiar with the story and characters.
In order to get the most out of any show, get children excited and looking forward to the show in advance. If the show you are going to has a soundtrack, you could listen to it in advance. This is a great way to get children familiar with the show without overloading them with too much information. If you know the basics of the story, you could tell it at bedtime the night before so children will know what to expect, but family-friendly shows are normally easy to understand.
Going to see a live performance is a truly memorable experience and it is a wonderful way to spark a child's imagination – you never know where it may lead them!
Kids Week in the West End
Kids Week in London is a wonderful opportunity to see a West End show.
The price of West End theatre shows puts it out of reach for many people, but Kids Week makes it far more affordable and is a way of encouraging families to go to the theatre.
A child aged 16 or under can go free to any participating show when accompanied by an adult paying full price, and you can buy up to two extra children's tickets at half price. And there are no booking or postage fees to pay! It has proved so popular that it is no longer just on for a week, but for the whole of August.
Tickets are now on sale. The top shows sell out very quickly, but you can normally pick up tickets for the lesser known shows fairly easily and perhaps see something that you may not normally go to.
For further details go to www.officiallondontheatre.com/kids-week