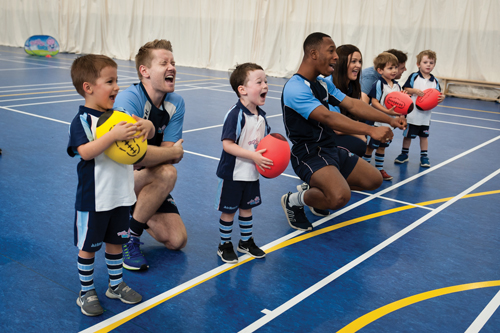 by Rebecca and Esther
Rugbytots Brighton & Worthing
We read it every day – the negative effects that too much screen time and television time are having on our children. In fact, only last month Brighton & Hove Independent published results of a survey1 stating that 80% of our children are failing to hit the Chief Medical Officer's target of at least an hour of physical activity every day.
With technological advancements come social issues including mental health problems as we become a 24 hour society that can't switch off. This means that children are being bombarded with information whilst becoming more socially disconnected – preferring instead to communicate via messaging apps and social media channels.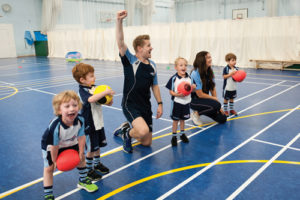 However, we are also living in an age where children have never had so many opportunities to try new things, have experiences, travel and learn life skills through their hobbies and interests. Although technology can be a distraction for parents and children, it is also the gateway to finding out what's going on in your area such as sports, dance, arts and crafts classes. Parents can take advantage of taster classes and children can then decide which classes they want to take.
Sports such as rugby are built on teamwork and respect. Played from an early age it develops more than just strength and fitness. When you think of rugby it might conjure up images of burly men with cauliflower ears covered in mud – but there are so many fun variations and games for children, including tag rugby, which doesn't have any tackling.
In a team sport everyone participates, and nobody is left out. Sports such as rugby also teach skills like kicking, passing and catching which are transferable life skills, valuable in all sports.
A skill that you wouldn't normally expect to hear associated with rugby is creativity; this is something that we focus on at our rugby sessions and the strategic elements of the game mean children are introduced to problem solving from an early age. During games they have to constantly think about situation awareness and make quick decisions which, in turn, help increase mental agility and self-confidence.
Let's look at the positive effects playing rugby can have on children:
Fun
Children learn how to enjoy sport, fitness and healthy competition with girls and boys from all backgrounds coming together to have fun.
Social
Rugby enables positive emotions, promotes bonding and builds friendships which in turn boost self-esteem and confidence.
Respect
Children are taught to respect teammates, coaches, opponents, referees and learn how to deal with healthy conflict.
Teamwork and sportsmanship
Children learn to make decisions that will benefit their peers plus gain essential social skills like team spirit, cooperation and sportsmanship.
Concentration
By learning the strategic elements of the game children's concentration, memory and analytical skills are enhanced.
Physical
Rugby develops hand/eye co-ordination, works on fine and gross motor skill development, improves balance and promotes good listening skills.
Competition
Rugby promotes a sense of healthy competition and teaches children about winning and losing and the skills needed to cope with both.
Character building
Team sports increase confidence, self-respect and teach children how to conduct themselves in game situations, making them more self-aware.
Rebecca and Esther took over Rugbytots, Brighton & Worthing, which is aimed
at 2 to 7 year olds, in November 2018.
They are friends who were looking for
a new challenge since having children.
They have a real passion for working
with kids and getting them to be more
active whilst having lots of fun.
The Rugbytots franchise ticked all the boxes and they plan to further build on its success
by adding more weekend sessions and
taking Rugbytots into school curriculums,
after- school clubs and nurseries.
Click on www.rugbytots.co.uk to find out more.