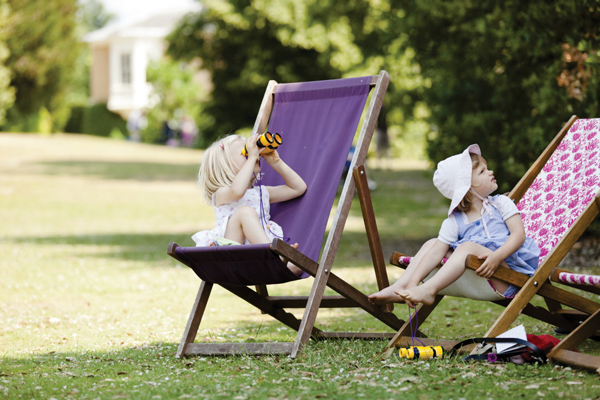 by Cate Jaques, National Trust, Polesden Lacey
One of the things I most enjoy about Polesden Lacey is seeing and hearing children having fun in the gardens and on the wider estate; running, laughing and exploring – experiencing nature, as my friends and I did.
When I was young I was lucky enough to live close to woodland. My friends and I would go exploring in the woods, according to memory, every day (although I'm sure this can't have been the case –
I vaguely remember being in school occasionally too).
We climbed trees, made dens, built bridges and dammed streams. We loved it.
What my friends and I took for granted seems a less common way for children to play now. There's even research that indicates that we, as a nation but especially children, might be suffering from something called 'Nature Deficit Disorder' – a phrase coined by Richard Louv, author of Last Child in the Woods: "Nature Deficit Disorder describes the human costs of alienation from nature, among them: diminished use of the senses, attention difficulties, and higher rates of physical and emotional illnesses."
A report by the National Trust, Natural Childhood, identifies four key benefits of playing outdoors:
Better for health
Playing outdoors can improve physical fitness in childhood, as well as laying the foundations for physical fitness in later life.
Being exposed to nature can even help you live longer. In 2009 researchers at the University of Essex published a report into nature, childhood, and health and life pathways. On one pathway, where children are 'free-range', people's lifespan increases; on the other, where they are kept indoors and have little or no connection with nature, they die earlier.
In fact, regular contact with nature brings an increased level of satisfaction with life in general. A National Trust survey revealed that 80% of the happiest people in the UK said that they have a strong connection with the natural world, compared with less than 40% of the unhappiest.
Better for education
Increased contact with nature improves the way children learn. Child psychologist Aric Sigman found that children exposed to nature scored higher on concentration and self-discipline; improved their awareness, reasoning and observational skills; did better in reading, writing, maths, science and social studies; were better at working in teams and showed improved behaviour overall.
Better for our communities
Studies have shown that even in cases where the only variable is the view of green space from a window, incidences of crime are reduced by as much as 50%.
Better for the environment
We're just beginning to grasp the extent to which we depend on the natural world. If we are to protect the world we live in, rebuilding the connections between children and nature is vital.
In the words of David Attenborough: "No one will protect what they don't care about; and no one will care about what they have never experienced."
I hope, if you've made it to the end of this article, you'll be inspired to encourage your little ones to come and see us at Polesden Lacey, go 'free- range' this summer, and get closer to nature.
www.nationaltrust.org.uk/polesdenlacey
Information and references taken from the National Trust report Natural Childhood by Stephen Moss, published 2012.