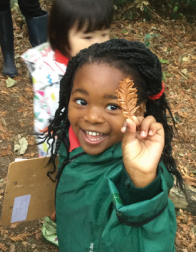 by Susan Clarke
Head of Rowan Preparatory School, Claygate, Surrey
Do you recall your first day of school? If not, your parents will have done, just like you now considering the educational path your child is on. When choosing the right environment, there are many factors to consider yet there is an abundance of choice regarding nurseries, preschools, and schools; so how do you choose?
Primarily we want our children to be safe, happy and enjoy the opportunities provided for them. However, look behind the scenes and there are huge differences in what's on offer. Below are a few handy tips on what to watch out for.
Children will benefit from a setting that has that perfect home-away-from-home feel, with warm, inviting spaces for them to grow, learn and discover. Take the time to explore nursery and preschool settings with small classes, specialist teaching provision, adventures to the woods and outdoor play areas and you are well on your way to instilling a love of learning in your child.
Experts in the Early Years
Do you know about the importance of cross-lateral movements, singing songs and practising making silly noises together? Not to worry if you do not, experts in the Early Years will be leading you and your child all the way. Finding the right experts for your child is essential, as building supportive and reassuring relationships at this age are vital for successful early development. At some settings, children will be fortunate enough to learn from passionate, specialist teaching staff, who bring out the best in every child. They will discover their interests and develop their inquisitiveness through exploration, investigation, and play. Staff will give you feedback through portfolios so that you feel involved in your child's learning journey. Sharing milestones, success and moments of discovery are precious and to be treasured.
Learning through play
Like most early learning environments, the Foundation Stage curriculum is considered to be at the heart of all experiences. Skilled Early Years practitioners will deliver carefully curated topics, based on children's interests and the curriculum, bringing them to life through song, play and observation. This approach will creatively develop the senses, sounds and imagination of their young charges. Within this world of fantasy, imagination and fun are opportunities for learning sounds, numbers and about the world around them. Look out for settings that nurture their knowledge, understanding and confidence.
Going above and beyond
While communication, personal and social education and mathematics are core to any Early Years curriculum, your choice of nursery can offer much more. What else is on offer? Is sport, dance or yoga offered to complement physical development? Is musical theatre, singing and drama provided to help build confidence and a natural ability to express themselves to a range of audiences? Are the children exposed to learning an additional language, having fun with songs, food and their newly expanded vocabulary? It is a joy to celebrate language and culture and these opportunities are all part of developing a sense of self and belonging in this world.
Woodland wanderers
When I think about my two children when they were two and four, I could barely get them out of a puddle or discourage them from climbing a tree, and who would want to at that age! Using the outdoors to develop knowledge, their language and awareness provides opportunity for real-life discovery. Problem solving skills are developed alongside the ability to communicate, these are essential building blocks in their educational journey. Many nurseries and preschools have access to woodland areas and Forest Schools, which children visit weekly and in all weathers. They will don waders, snow suits or sunhats to explore the woods, returning to school with tales of mini-beasts, den building, witling and wandering. How I yearn to be three again!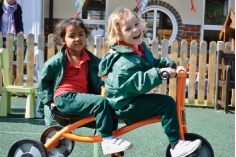 Parents as partners
You are an essential part of your child's development; you know their interests, likes and dislikes. Getting to know whether your child likes dinosaurs, or peas rather than broccoli, will help them settle confidently into their setting. An open-door policy is vital in enabling you to work in partnership with staff and allowing you to discuss any concerns you may have. Look for an environment that holds regular 'Show and Share' sessions, where children delight in welcoming their parents into the classroom, proud of the learning space in which they feel comfortable and can excitedly share their prized creations and the skills they have learned.
Ready for 'big' school
As your little one nears the end of their time in nursery or preschool, they will be more than ready to embrace the experiences of Reception. Thinking about their transition will be key and if you are able to offer them continuity and familiarly through the same whole school setting or through friendship groups this will help ease their way. If your nursery is in a school setting, I know that Reception teachers love nothing more than coming into the Early Year's rooms and getting to know them for that next big step. Once you have chosen your school for Reception there will be information and activity afternoons, so everyone feels confident and assured about the next stage. Children will radiate confidence from their time in preschool, so much so that Reception in the same environment seems natural and reassuring.
Susan Clarke is the Headmistress at Rowan Preparatory School in Claygate, Surrey, an outstanding prep school and preschool for girls aged 2-11.
The school motto Hic Feliciter Laboramus – Here We Work Happily – is a sentiment embodied throughout the school, where an engaging and inspiring approach to education creates a lifelong love of learning. To discover more visit www.rowanprepschool.co.uk or contact admissions@rowanprepschool.co.uk to arrange a visit.