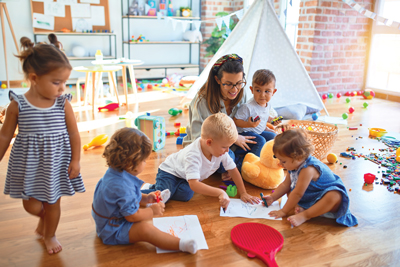 by Sally-Ann Potter
Potter's House Preschool and Forest School
I imagine many of us in the Early Years are adjusting to what should be the new normal – life after lockdown. As well as the logistical and financial impact that Covid-19 and various lockdowns has had on the Early Years, we are now faced with an altogether more alarming challenge – the 'Covid Cohort'.
An entire cohort of children who are starting preschool are significantly lacking in vital areas of development. A global pandemic saw us losing so many support groups for parents that are vital to the development of children under five and we are now observing the detrimental effect it has had on their development.
By completing assessments of children in the Early Years we are able to identify and pinpoint areas where children may not be meeting targets. This enables early intervention and allows us the opportunity to help support those children to achieve goals and next steps. Recently, when observing children in order to assess them I have noticed first hand and also had reported to me a frightening number of our children who are unable to communicate effectively, are socially unaware and have no understanding of boundaries or keeping themselves safe. What was once around 5% not reaching goals is now closer to 85%.
As children's brains develop the quickest within their first five years, it is fair to say that the negative effects of lockdown on children's development could have lifelong impacts. Speech and language development are vital to a child's ability to engage socially or in education and learning on the whole. Communication is the fundamental starting point for children's learning.
Let's look at all the positive interactions and experiences children have missed out on because of the pandemic – play dates, family gatherings, the library, the park, baby groups, singing groups. All of these experiences create opportunities for children to develop their language – they hear and learn new words as they are exposed to conversations, they learn to take turns speaking, this enables them to build social skills and mimic social interactions and, vitally, develop their confidence and self-esteem.
This lack of opportunity to develop their confidence and self-esteem means that the mental health of children in the Early Years is also negatively affected. On top of that the mental health consultations among new mothers went up 30% and is continuing to rise. Post Natal Depression has tripled! Mothers experiencing high levels of anxiety have gone up 43%. The ripple effect of this contributes to the decline in mental health of children in the Early Years.
So what do we do?
We need to look at how the pandemic has altered our 'cultural capital' and what we need to adjust in order to give every child an equal opportunity to grow and learn. With the introduction of a new EYFS, settings have the unique and long-awaited chance to construct their own curriculums. This couldn't have been introduced at a better time and settings have a golden opportunity to build a curriculum that supports an entire cohort of children who need targeted support with communication. This is a time where Early Years settings can shine and make a real difference to the future of millions of children across the world.
How do we do it?
At Potter's House we are fortunate enough to be supported by an incredible NHS Speech and Language team who offer training and advice to staff whenever necessary. In conversations with speech and language therapists and other practitioners supporting the Early Years, I've discovered how aware of this concern everyone is and how hard they are all working to combat it. We have a high level speech therapist attending our setting to deliver vital training, bespoke to our setting, in order for staff to fully understand and underpin the growth of our children's vocabulary.
In addition to this we need to look at some ways we help children to develop communication and make it omnipresent in our practice. Go back to basics – make comments and statements when speaking to children, avoid asking lots of questions. Give children time to process what you have said and respond. Keep language limited and simple. Repeat back to toddlers what they say in order to model mimicking. If possible, reduce background noise. Build on what they have said, for example, "car", "yes, and blue car". Remove dummies and any other obstructions. Speak clearly and subtly correct their mistakes by repeating what they have said back to them correctly. Read to them and introduce visual aids in conversation. Play music and sing songs.
"From the earliest moments of life, children begin to learn the fundamentals of language. The most powerful influence for effective language development are the verbal interactions with caregivers." – Dr David Perlmutter, Neurologist and Author of Brain Maker.
For more information please contact Sally-Ann at sallyann@pottershousepreschool.co.uk or call 07375 379148
www.pottershousepreschool.co.uk