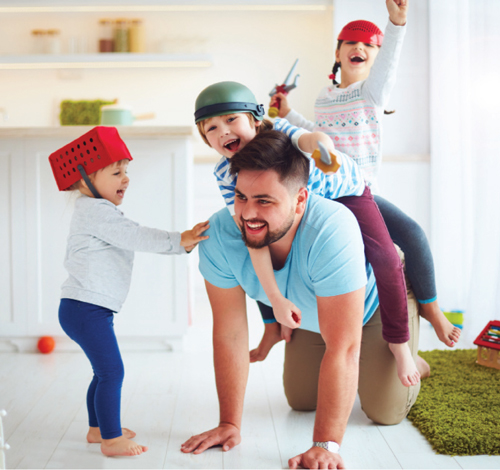 Mums, dads, and carers across the UK can often run out of ideas of what they can do for fun entertainment with their children when they are at home. Here, Gabriella Egleton, UK Brand Marketing Manager for Bebeto sweets, has compiled her top 10 little things you can do to help keep the whole family entertained during free time.
1 Start a feather collection. When out walking keep your eyes peeled for unusual bird feathers. From magpies to pigeons, you'll be amazed at how beautiful some feathers are.
2 Grow some herbs. Instead of buying fresh herbs, invest in a few packets of seeds and let the children watch them grow. As the kids grew them, they will be more likely to try to see what they taste like.
3 Have an indoor scavenger hunt. Create a list of items and set a time limit to find a range of different objects around the house. Objects could include a sock, a pencil, and a book. And of course, you'll need a bag to collect the objects.
4 Make your own board game. Come together as a family and brainstorm what your boardgame is going to be about, the object of the game and the rules. Then, as a team, set about creating it together.
5 Make paper planes or paper dolls. Host a paper plane throwing competition and see whose creation can fly the furthest. Alternatively, cut out paper doll chains and decorate them. Once completed you can attach lolly sticks to either end and make the dolls dance for you. Maybe you could then host a puppet show with them.
6 Make an indoor den. Raid the airing cupboard for blankets, towels and cushions and build a den in the sitting room. This activity offers hours of fun as the den could become a castle or a tent.It will grow with your child's imagination.
7 Compile a list of things you have enjoyed or are thankful for. Every day add an activity or event to the list that has made your child happy. This will become a memory for your child to treasure in years to come.
8 Host an indoor picnic. Inject some fun into lunchtime by hosting a picnic on the kitchen floor. Grab your rug, sandwiches, and crisps for a lunchtime with a twist.
9 Draw with your eyes closed. Art is always a nice way to fill time but why not try drawing objects, places, and people with your eyes closed. You might surprise yourself.
10 Hold a talent show. Some people have natural talents, and others have ones they haven't uncovered yet.Whether you have one or not maybe you could learn something new to show the family like a magic trick, whistling with your fingers, or juggling. The list is endless. Enjoy!
Bebeto is available at all good convenience stores nationwide.
For further information please visit www.bebeto.co.uk or find them at Bebetouk on Facebook.