by Naomi Marks, Brighton & Hove Food Partnership
I have yet to come across the small child who doesn't love to roll up their sleeves and get busy with biscuit dough and cutters. It's all the tactile pleasure and creative fun of playdough with the bonus of a teatime treat at the end.
But once children get beyond infant school age, cooking can all too often play second fiddle to the lure of the screen as an indoor activity.
That's such a shame when we all know how important eating good, home-cooked food is for children's physical and mental health. Keeping the cooking habit going as children grow older will benefit their bodies and their brains – and arm them with a set of skills that will serve them well throughout life.
Besides, cooking is fun!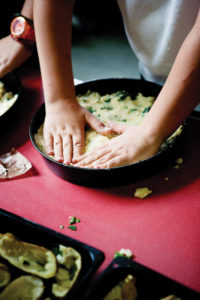 Here are some ideas to keep your school-age child engaged in the kitchen. You never know, you may end up with a future MasterChef in the family. At the very least, you can expect some tasty outputs from your young ones.
Your children's learning in the kitchen will be incremental. Younger children love to construct so let them start out this way and only slowly build up to more advanced cookery techniques. For example, primary school-aged children have great fun building their own pizzas. Set some passata and mozzarella or grated cheddar on the side and fill bowls with a range of toppings, such as cherry tomatoes, mushrooms, ham slices, olives, red pepper, chorizo and spinach. Then let them get creative on a pizza base of their own.
Older kids, however, will also enjoy making their own pizza sauce: an easy one sees a tin of tomatoes, a teaspoon of mixed herbs, a clove of garlic and some salt and pepper whizzed up together, with enough tomato puree then added to make a good, thick sauce.
A real sense of achievement will come when children feel confident enough to tackle the dough. Find an easy recipe for pizza bases at www.bhfood.org.uk/recipes/basic-bread/
Top tip: pizza-making is a great children's party activity.
Alternatively, the same approach can be brought to shop-bought falafels and hummus. Set alongside bowls of fillings such as tomatoes, avocados, spring onions and pickles for children to lay out on flat bread and roll into delicious and healthy Mediterranean wraps.
While younger children will be content with this, older children will be amazed at how easy it is to make their own tasty hummus: just whiz up chick peas, tahini (sesame seed paste, which is widely available), lemon juice and olive oil with some cumin and paprika to taste.
And your more ambitious child will enjoy actually making the falafels – though do be on hand for this as it involves hot oil. Check out the recipe at www.bhfood.org.uk/recipes/falafel/
If you're stuck for cooking ideas, take inspiration from cuisines around the world. There's a host of fun to be had home-rolling sushi with your child. Most supermarkets sell the rolling mats and special rice required – and few fridges and larders fail to yield enough to supply sushi fillings. A carrot, a chunk of cucumber, some cream cheese, a one-egg omelette and some leftover tinned tuna will go a long way.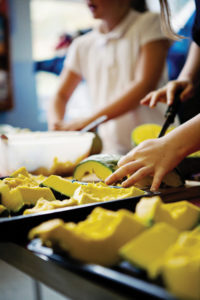 Or use festivals as your excuse for experimentation. Make a simple curry with your children for Diwali or a chili for the Day of the Dead.
Finally, the lure of a cake is one sure way to bring children racing into the kitchen. But, why not up the stakes and appeal to their more competitive side?
Stage a mini Bake Off, inviting other family members or your children's friends to join in the fun. Points can be awarded for artistic flair as well as taste – and maybe cleaning up skills too.
Just remember: keep it friendly, keep it fun!
Brighton & Hove Community Kitchen is running two World of Food Easter holiday cookery courses for children aged 7-11 and 12-16. Find out more at www.bhfood.org.uk/events/world-of-food-ii-school-holiday-cooking-with-jethro-for-young-cooks-aged-12-to-16/
Local non-profit organisation, the Food Partnership has just launched a new 'Community Kitchen' on Queens Road in central Brighton – a cookery school where classes with chefs and food experts help subsidise low-cost, accessible community cookery activities.
www.bhfood.org.uk/the-community-kitchen