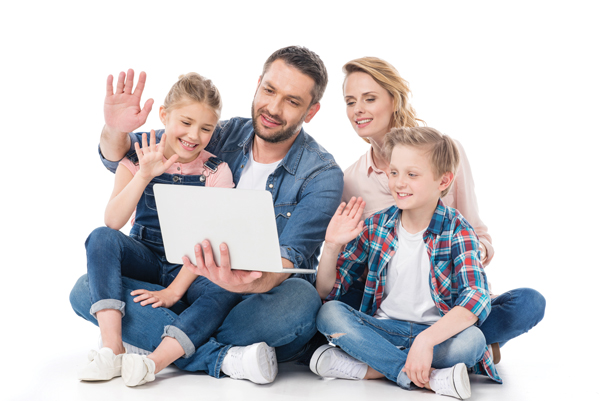 by Jennifer Grey and Hasna Haidar
Freelance writers
When we all retreated into our homes last year, many of us relied on social media and the internet to connect with the outside world. From using apps to catch up with the grandparents to finding ways to keep entertained without going out, the internet was a lifeline enabling us to have fruitful days at home. It also allowed our children to continue to study remotely, to keep in touch with their friends or to stay occupied while stuck indoors.
But, while all these positives about the online world may hold true, it's an unfortunate fact that lurking within the digital space are predatory individuals and problematic behaviours. With research finding that abusive online behaviour towards children increased during lockdown, it's important that we educate ourselves – and our children – on online safety. After all, the digital world will likely continue to be a presence in our lives long after lockdown. Below is a list of some of the potential dangers your children might face as they navigate the web – and how you can help.
Cyberbullying, and why empowerment, trust and honesty are needed to tackle it.
Cyberbullying refers to harassing or intimidating behaviour, or behaviour intended to embarrass someone, that takes place over the internet. The Office of National Statistics found that one in five children in the UK experience cyberbullying, while two in five experience bullying in person. Over the course of the pandemic-related lockdowns, it's possible that this has shifted further towards the former.
If your child is experiencing cyberbullying, they may be feeling ashamed, worried, uncomfortable, scared or confused. What's more, they'll likely be reluctant to tell you what's going on. Fostering an open and welcoming environment that starts when your child begins to use internet-connected devices can help your child feel comfortable coming to you for help when things go wrong.
Three major aspects that'll help you do so are empowerment, trust, and openness.
• Empowerment
While your first instinct may be to monitor your child's social media usage to help you spot warning signs, it can be more effective in the long run to ensure your child has the tools and knowledge to navigate the digital world safely. This includes learning how to block or report people online, using and coping with comments on social media.
• Trust
When discussing cyberbullying or any other online safety topic, keep your comments positive and non-accusatory so your child feels trusted instead of defensive. Your child needs to know you appreciate how they might be feeling, and that you're on their side.
• Openness
Make sure your child knows your door is always open for further discussion, approach conversations with an open mind, and reassure them that they don't need to hide what they're experiencing online.
Issues with inappropriate content
Another unfortunate reality of using the internet is exposure to inappropriate content. Your child could watch poor-quality shows that aren't created with the proper educational milestones in mind, play games that are unsuitable for their age, or even stumble across age-inappropriate content. A phenomenon that's been recorded recently is content that appears child-friendly, but has been created by shady individuals specifically to trick children and their parents.
Inappropriate content could also take the form of your child receiving – or indeed sending – nude or sexually suggestive imagery online. This may happen due to predators coaxing, tricking or threatening underage children to send inappropriate photos, or could take place on a peer-to-peer level with children sending and requesting nude photos to and of their friends. A recent survey found that 17% of those aged 15 or over had shared a nude photo of themselves online. Yet, it may not be commonly known that being in possession of a nude photo of an underage person – even if that person is yourself – is a crime in the UK.
How to broach the issue of inappropriate online behaviour with your child
It's important that your child understands the principles of safe internet usage. You may want to have a conversation about online safety – tailored to their age group – as soon as your child begins to use internet-connected devices. When doing so, keep in mind that, for many children, the line between their online world and their offline world is often blurred, with both worlds being equally real. In order to have a true conversation about online safety, it's important to take into account how your child views the online world.
It's also worth approaching your conversation as a general one about your child's life – both online and offline. If you take a relaxed and gentle approach, it'll help your child feel more relaxed too, and more willing to come to you if they do have issues. Some of the things you may want to talk about include:
• What they enjoy doing online.
• What apps they're currently using.
• Who their online friends are.
• How being online makes them feel.
• If they're worried about anything in particular.
• Whether they can trust what they see online.
• What they should do if they saw or heard something they didn't like online.
• How to identify when they're overusing apps.
• How they can stay safe online, any tips they have for you, and any tips you can give them.
• How to maintain a healthy balance between the offline and online worlds.
• Where the privacy settings are, and how to report or block users.
• What types of content are appropriate for them to view.
• What types of content are okay for them to share, and what is not okay.
Switching to appropriate social networks
While some social networks are aimed at a younger age demographic than others, all social networks have the potential to allow children access to inappropriate content. It may be worth ensuring your child only uses social networks designed – and exclusive to – their age group, such as Spotlite and GoBubble. These can be safer spaces for younger internet users; allowing them to gain an insight into social media use without the added risk of encountering inappropriate content or questionable users.
Through helping them find safe ways to navigate the internet, fostering an open dialogue with your child, and demonstrating to them that you understand and are supportive of their online world, it'll be easier for you to ensure your child has a happier experience online. Having honest conversations about online safety while celebrating all the good that the internet can bring can help ensure you're taking a positive and productive approach to this aspect of your child's life.
Hasna Haidar is a freelance copywriter and data researcher, covering topics in technology, education, and parenting. Jennifer Grey is a freelance writer, covering the internet, social justice and lifestyle.