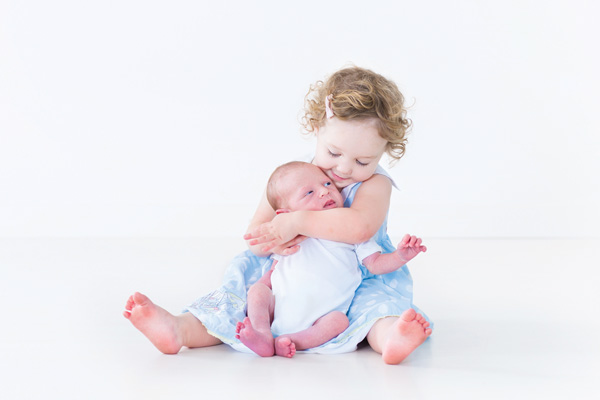 When you're getting ready to welcome another baby into your family, you'll no doubt want to share the excitement with your first born. By getting them involved with all the pre-baby organising, you can ensure your son or daughter is just as prepared as you are for the new arrival. Here, Kirsty Prankerd, Managing Director at Write From The Heart shares her tips for getting your little one ready for a sibling.
With another baby on the way, there's sure to be many things you'll be planning, and one of those should be helping to make it a positive experience for your first born, too. It's only natural that your little one might feel a bit left out or upset knowing they won't be mummy or daddy's only child, but this doesn't mean they can't warm to the idea – especially if you get them involved with the exciting preparations.
Here, I'll be sharing my top tips for getting your first born prepared for their new sibling.
Make a special announcement to them
Telling your little one that you're expecting another baby can seem nerve-wracking, but if you approach it in the right way, you'll have nothing to worry about. Creating a special announcement that gets them involved is a great way of doing this. For example, you could throw a mini tea party with plenty of their favourite foods, games, and decorations and reveal it to them during this and tell them they're soon going to have a little brother or sister who they can do this with.
You could even give them a little gift that they'll be able to share with their new sibling. This could be a game they could play together when they're a little older, or a book they could read to the new arrival.
Allow them to help pick decorations for the nursery
If you're planning on giving your nursery an overhaul before your little one arrives, it might be a nice idea to have your son or daughter help you with it. If your child is too young to help to do any painting, you could get them involved in different ways. For example, once you've narrowed down a few options of paints or wallpapers for the walls, you might want to ask them which they like better and go with that one.
If your child loves drawing or painting, you could even have them create something special for the newborn that you can frame and hang in the nursery.
As you will be spending quite a lot of time in the nursery, whether that's redecorating or organising your baby's drawers, it's important that you try to get your little one involved as much as possible. Allowing them to help you make big decisions and being given their own responsibilities is sure to make them feel happier and more prepared to be a big brother or sister.
Get them involved with the naming process
Thinking of a name for your baby doesn't always come easy, especially when you haven't met them yet. This is why some parents like to come up with a few good options so that they can see which suits their newborn better once they meet.
If you're struggling for some first or middle names, or you simply can't pick between a couple, why not let your little one help? They're bound to come up with some that you're not too keen on, but by spending some time together looking through baby name books and writing down your favourites together, your son or daughter is sure to feel special – plus, you'll have plenty of options when it's time to meet your new baby!
Read them stories about other siblings
There are sure to still be periods of uncertainty for your child about having a new sibling, even if they appear excited at times. To help ease any worries and show them how fun it can be to have a brother or sister to share family life with, I would recommend reading them stories about siblings.
Whether the storyline is about fun adventures that siblings can go on together or gives your little one ideas about what types of games they could play together when the baby is a bit older, it's sure to make them a bit more enthusiastic and excited.
To make it a bit more personal, you could even look for books that can have the character names personalised to match your son or daughter's name, so they feel extra special and relate with the character more.
Let them choose a gift for the baby's arrival
Letting your child select a gift from them for the baby's arrival can be a great initial bonding experience, especially when they choose something that your newborn can cherish for years, like a cuddly toy or a blanket.
So next time you head out to the shops for some baby supplies, why not take your son or daughter with you? Head to the newborn baby section with them so you can be sure anything they choose will be suitable for a tiny human.
If you've already decided on a name, you could even let them choose a personalised gift, like a soft toy with your baby's name embroidered on, or a memory box that they can help to fill when your newborn has arrived.
Ease your child's nerves or jealousy about a new sibling by getting them involved as much as possible with the preparations. By giving them responsibilities and getting their opinions, they're sure to feel much more valued and excited to meet their new brother or sister!