by Chloe Webster and Bridgit Brown
Pebbles Childcare
As practitioners, we know only too well how important supporting children's personal, social and emotional development is, particularly in today's society where children's mental health (and mental health in general) is so prevalent. There are staggering statistics from the Mental Health Foundation that say at least one in 10 children (aged five to16 years) experience some form of mental illness (including anxiety and depression) as a direct response of things they have experienced, yet as many as 70% of these children will not have received sufficient interventions within their early years. (www.mentalhealth.org.uk)
So what can we do as practitioners to reduce these staggering statistics and equip our children's emotional arsenal adequately enough to deal with the trials and tribulations the modern world puts upon them as they grow up?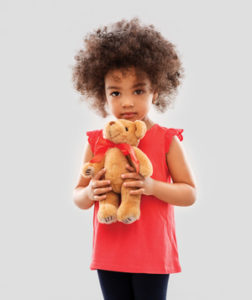 As settings, we should place the children's emotional development, resilience and intelligence at the forefront of everything we do, because how can we expect children to learn literacy, maths and problem solving skills when they aren't emotionally ready to learn? As practitioners we need to support the emotional wellbeing of the children we care for, ensuring that they are aware of their emotions, what they mean and how to manage them. Then children can develop their understanding of the emotional needs of others and how we can be mindful and supportive of each other in order to develop friendships and relationships.
Encouraging children to be emotionally intelligent and resilient doesn't have to be difficult; the earlier we introduce children to becoming aware of and feeling their emotions, the more likely they will be to grow into emotionally balanced and intelligent young people.
The behaviours children display is an outwards response of the emotions they are feeling and trying to process, and it is our job to not only support them with processing these emotions but also to allow them to truly 'feel' their emotions before understanding why they are feeling them and how to deal with them and process them adequately. Children need the opportunities to experience a wide range of emotions in order to develop the appropriate skills to recognise, identify and manage each emotion; if we try to 'protect' children from 'negative' feelings (anger, sadness, fear) then how will they ever possess the emotional tools to process these emotions constructively.
For children, understanding and 'owning' their emotions is supported by their developing language and their understanding of the words and phrases we, as practitioners, use in relation to their emotions.
The words we use to identify, recognise, discuss and process emotions and behaviours has a significant impact on how children will react, respond and understand the varying emotions they feel. For example; instead of saying "Don't be scared" when a child is feeling fearful, we could ask them "What are you scared of?", "Why are you feeling scared?", "What scares you about this?" This way, the child begins to mentally process the emotion and feelings they are experiencing, and dissect it to begin to understand 'why' they feel this type of emotion and how to overcome it with the support of a familiar adult. Similarly, simply telling a child "Stop crying", "You don't need to cry", doesn't support their emotional intelligence and enable them to investigate why they are crying or what it is that is causing them to feel upset.
It is our job as childcare providers to support the children in our care in understanding and dealing with their emotions, in addition to supporting them in understanding and being empathic towards the feelings and emotions of other children in the setting too.
As adults, we know that emotionally we all have different triggers, different ways of dealing with the emotions we experience; children are exactly the same and will all process and react to a range of emotions with varying levels of behaviour. It is our duty as their key people to determine, understand and support each child's individual emotional range, find tools to support them in processing and understanding each emotion, before encouraging them to identify and support the emotions of their peers.
In order to meet children's emotional needs, they will need a number of things. Firstly, an emotionally rich environment supported by emotionally intelligent adults, in addition to resources that provide children with the opportunity to explore different emotions of different people, opportunities to practise and identify various emotions as well as the opportunity to practice how to support and process the emotions of others.
Providing children with various resources to support them in exploring these things through their play and in their own time, is fundamental to cementing their learning and understanding of emotions.
We need to provide children with a wide variety of stories and books that discuss and explore different real-life scenarios that can unleash different emotions (parental separation, moving house, the transition to school or to a new setting, a new baby, to name but a few) and explore how these are addressed and managed through stories as well as a vast array of imaginative play experiences to practise and develop the skills needed to identify and support the emotions of others.
Where developmentally appropriate, introducing simple mindfulness activities and techniques to provide the children with the time and space to think about, feel and process their feelings in a constructive and calm way is conducive to the resilience of the children's emotional wellbeing as well as their emotional intelligence.
Yoga is a wonderful activity for focusing on movements that enable children to breathe, take control of their body and mind and focus on each movement and breath they are taking which instils a feeling of calm amongst the children. For our older children, making their own 'Worry jars' is a great activity and resource to have within your setting; a small jar that the children can create freely by combining coloured water and glitter/sequins/buttons. The message behind these jars is that when the child feels angry/sad/anxious they can physically express these feelings by shaking the jar vigorously and calm themselves by focusing on watching the glitter/sequins/buttons settle; therefore allowing the child time to mindfully focus on their feelings and the process of watching the materials settle allows the child's feelings to settle and calm too. These jars not only support the child in managing their emotions productively but also provide the child with ownership of their own emotions and behaviour management.
We all have a role to play as professionals and parents to ensure that we know how to adequately support the mental health and emotional intelligence of our young children, in order to support and help them in growing into emotionally balanced and strong young adults.