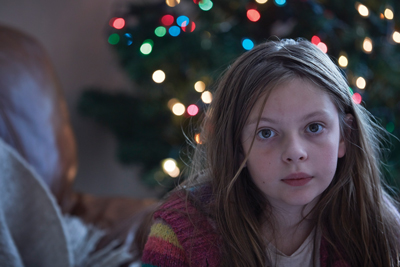 by Edmond Chan
Childline Supervisor
image by Ross Bolger
For many children and families, Christmas can be the most magical and exciting time of the year. But for many others Christmas can also be a more difficult and challenging time. This Christmas, Childline is preparing to help thousands of children and young people, both day and night, as many struggle to cope with loneliness during the festive period. There are many reasons why children may feel lonely at Christmas – some may be struggling with their mental health whilst others may be in homes that are not safe.
What is loneliness?
Children and young people don't need to be physically alone or cut off to feel lonely. They might be surrounded by other people but still feel like they're on their own. Maybe they're struggling to make friends or have low self-esteem. Loneliness can make young people feel down. It's natural for children to feel lonely at times.
Reasons why children and young people can feel lonely at Christmas can include:
• Feeling misunderstood and 'invisible', while those closest to them struggle to understand their feelings.
• Ever-growing influence of social media in their lives leading them to compare themselves negatively to others.
• Struggling to fit into new surroundings after moving house or changing school.
• Losing someone close to them after a death or broken relationship.
• Bullying.
• Experiencing abuse or neglect.
• Don't get on with their family.
• Have an illness or disability.
As a result of their low mood young people will often spend a lot of time in their bedrooms or online, which can exacerbate their loneliness. In the worst cases some may feel so desperate that they self-harm to cope with their negative feelings, or may even contemplate ending their own life.
One 15-year-old girl who contacted Childline last Christmas said: "I feel sad all the time and keep thinking about suicide. I just don't want to be here and cry all the time. I have so many bad thoughts and I am glad Christmas day is over as I feel like I should be happy and have to put on a fake smile for my family. It's really hard to deal with life."
What signs should parents look out for if they think their child may be struggling this Christmas?
Symptoms and signs can change from person to person but typical things to look out for include angry outbursts at themselves or others, becoming withdrawn from friends and family, irritability as well as problems eating or sleeping.
If you're worried your child might be experiencing loneliness and unsure what to do, we have some advice to help support you both:
• Start a conversation when no-one will interrupt, perhaps during a bike ride or car journey.
• Try to stay calm if your child tells you something alarming as it may stop them from confiding in you again.
• If your child isn't ready to talk straight away try again in a few days' time.
• Listening is important and shows your child you value what they're telling you.
The first step is always to talk to your child. Ensure it's in a safe environment and talk to them about how they're feeling.
A child should never feel so isolated and helpless that they see no way out. We all have a part to play in helping a young person before they reach crisis point. It is vital that children and young people know they always have someone to talk to and they never have to suffer alone, which is why Childline is always here for them.
Childline's advice for children and young people who are suffering loneliness is:
• Take a break if your family is starting to annoy or upset you.
• Don't compare your Christmas to other people's, or what's said on social media. Every Christmas is different.
• Tell someone you trust how you feel.
• Track how you feel in a mood journal.
• Think about positive things.
• Don't be hard on yourself – it can take time to feel better.
• Visit the loneliness and isolation page on the Childline website for more advice.
• Call Childline free and in confidence on 0800 1111 or visit www.childline.org to chat to a counsellor online.
Christmas is the time of year where we think about children, and most of them are happy, excited and loved. But for some children, Christmas can be the hardest time of the year. Childline will continue to be there for all children who feel they have nowhere else to turn – this Christmas and beyond.
Children can call Childline at any time on 0800 1111,
visit www.childline.org.uk or download the 'For Me' app.
Any adult concerned about the welfare of a child or young person can call the NSPCC helpline for free 24/7 on 0808 800 5000.
Just £4 pays for Childline to answer a call this Christmas from a child in need of support, to donate visit www.nspcc.org.uk