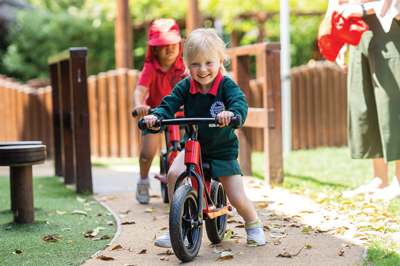 by Harriet Kelly
Head of Early Years at Rowan Preparatory School, Claygate, Surrey
"Over the last two decades, children have lost almost eight hours of free, unstructured, and spontaneous play a week." (Elkind, 2008)
Play, particularly explorative play that encourages curiosity, has physical, social, cognitive and emotional benefits. When children are allowed to be adventurous, they develop the ability to manage risk, be resilient and to solve problems. They develop a strong sense of self-belief in their own decision making and build the fine and gross motor skills essential for later life.
Preschools that prioritise physical development have the understanding that it is crucial for children to be in an environment that enables the enhancement of the foundation skills needed to begin their school journey. They will provide children with endless opportunities to develop and enhance both their gross and fine motor skills. High quality gross motor provision could include activities such as soft play, trampolining, crawling through tunnels, balancing on benches, playing on a seesaw, balancing on balance bikes, cycling, climbing on logs, swinging, rolling tyres, travelling up and down hills, mixing in mud kitchens, transporting larger buckets of water, sweeping and building with heavier wooden bricks. These should all be appreciated and valued in the early years and beyond.
Simple activities such as tree climbing and den building are rich in learning opportunities and should not be underestimated. When climbing a tree, children should be encouraged to consider their physical space, where their feet need to be placed, whether they feel comfortable and how high they think they should climb in order to stay safe. Parents should always be there to supervise but should contemplate the level of support given in order to develop their child's own risk awareness and physical resilience. The simple act of climbing trees builds upper body strength, core stability and balance which are all gross motor skills which support progress in writing and Reception readiness.
At our preschool, children enjoy a wide range of indoor and outdoor physical activities. Play-based learning encourages them to make decisions and take risks; we see their sense of self-belief and confidence grow as they are provided these opportunities within a safe and supported environment. Learning outside the classroom is encouraged throughout the day, with regular visits to Forest School, and outdoor classroom space.
Developing gross motor control is not the only early physical skill that supports writing development. Writing requires children to control both sides of their bodies, so opportunities for bilateral movements, such as kicking a ball, where children have to cross over the mid-line of their bodies, are of great benefit. If you are waiting in a queue why not set your child a challenge? Can they lift their knee and tap their right hand to left knee and then swap?
Building fine motor control and dexterity are other early development goals that are vital for a smooth transition into Reception. Excellent early years providers will give opportunities to turn keys in locks, pop bubble wrap, build towers, use tweezers and chopsticks, use cooking utensils, do up zips and buttons, isolate fingers when playing in foam or flour, play with putty, mark make while laying on their front and mark make using chalk, pens, crayons, paint or pencils. Playing games that encourage finger isolation can help to develop the 'dynamic tripod grasp' where the writing tool is held between the thumb and the index and middle fingers. This should be developed between the ages of three and four years. Another quick activity is to hold up a number of fingers behind your back and ask your child to show on their hand how many fingers you are holding up, to keep their interest you can swap roles and do the guessing yourself. Singing nursery rhymes such as 'Tommy Finger' also encourages finger isolation and dexterity.
There is so much more to writing than tracing and forming letters. The simple act of taking your child to the woods gives them the chance to explore, climb trees, collect leaves and acorns, swing from branches, carry and roll logs and dig. These simple activities can all contribute to your child's ability to be able to physically write when they enter their Reception year. Why not enhance your trip to the woods by taking some potato peelers and whittling freshly cut branches? A simple activity that teaches perseverance and concentration, requires force and control and uses both sides of the body, supporting progression in writing without actually writing.
The confidence that stems from adventurous activities is second to none. There is a certain sparkle of pride in children's eyes when they climb high up in the tree; or remove all of the bark when whittling, or build a den, or roll a log and dig down deep to find a worm. These simple, sustainable, unstructured play activities should not be lost as adventure is a vital part of early childhood and is integral to developing early literacy skills such as writing.
Rowan Preparatory School in Claygate, Surrey, welcomes parents who would like to see how adventurous play and outdoor learning are enabling confident young learners.
Visit www.rowanprepschool.co.uk to discover more about their Preschool and Early Year provision and to arrange a visit.