by Tiger Cox
Explorer and author
When I returned home to Sussex after a year sailing the world with my parents, I enrolled in a new school and quickly became aware that my life until this point had been lived inside a bubble, surrounded by people who valued nature and exploration.
Now I was a lamb among the wolves, a Waldorf Steiner educated 13 year old with no street cred and a strange name, sitting in my first national curriculum religious education lesson wondering if throwing things at the teacher was perhaps a group learning activity set before my arrival? Alas it was not. Despite my lack of familiarity with the state education system (I had never even sat a formal test, let alone an exam), I retained a curiosity and love of learning that many of my peers had lost years before. In the next three years I would pass 13 GCSE's and three A-levels in maths, physics and programming. So how did I stay curious and apply what I had learned outdoors to academia?
The world at large
"Nature is the source of all true knowledge. She has her own logic, her own laws, she has no effect without cause nor invention without necessity."
– Leonardo da Vinci
In June 2011 my parents and I went travelling by sea. As we sailed from our home harbour of Newhaven, a few family and friends waved teary eyed from the shore (tears unconfirmed). What they saw was a dumpy three ton catamaran, with two masts and netting spread between her wooden hulls like a badly designed trawler. Despite her considerable weight, and length (32ft), cabin space was, let's say,"cosy".
My bunk was additionally cramped by a complete set of homeschooling books. Stacks of Key Stage 2 maths worksheets, a science set with an ammeter and powerful light bulbs (our solar panels just about managed to light two LED strips), and enough classic novels to get me up to speed on English literature. Some of those novels I would eventually become bored enough to read, such as Jack London's 'White Fang' which I finished off the coast of Portugal. A brilliant book! The vast majority of that homeschooling kit however, stayed safely stored below my bunk where, the last time I checked a few years ago, it remained.
While my parents bickered about the setting of the anchor, I focused on fishing. I fished for pollock to feed my pet seagull, I fished for mackerel using homemade lures, I fished for sardines in Spain alongside toothless old men, and for skipjack tuna chased by dolphins in the Canary Islands. In Morroco the water was so dirty I dared not fish at all. I learned about the tides and the weather, about materials and lengths of line, weights of fish and water pollution. I learned about people too, our many languages and similarities. Without really knowing it, I covered the homeschool curriculum. Everything tied back to fishing. Looking back now, I see that fishing could have been photography, or fossil collecting, or a fascination with different types of pizza. It really doesn't matter what that focus is, because connections can be made everywhere. It is simply learning by leading with reward, a pursuit that is already enjoyed.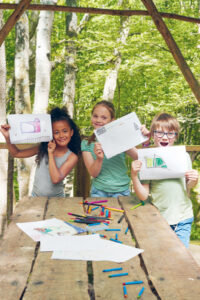 Using the spirit of adventure to your advantage
"Okay Tiger, I get it, lead with reward, use the outdoor classroom, but we can't all go live on a boat, and my children don't have one thing they are interested in for more than a week…"
Perhaps the answer to many people's concerns about children spending less time outdoors than prison inmates, is to use more imaginative storytelling. I just told you a story about my adventures living on a boat. I led with that story because I know it is more captivating than "let's talk about outdoor learning". I am not the first to lead with stories. For thousands of years, the Aboriginal peoples passed down their knowledge of nature through stories, the characters in the stories were captivating and young people practiced their teachings. Here in the West, we have made stories from explorers in history part of our culture, but do we use them to motivate young people enough? I don't think so. The story of Mathew Henson reaching the North Pole, perhaps being the first person to get there and at a time when men of colour were considered less, is certainly inspiring. But it feels far off, almost like he was born to explore and we are not. The truth is, all great explorers in history started playing with a compass in the back garden. If we can communicate this to our young people, and enable them to start practicing basic outdoors skills, reading the weather or making rope from scratch, then spending time outdoors becomes more like being part of an interesting story, rather than a waste of time.
Creative problem solvers as the celebrated explorers of the future?
I imagine that creative problem solvers will be the celebrated explorers of the future. There are no more unknown seas to cross or foreign lands to find. There is only the deep ocean, outer space, and a whole lot of problems here on Earth. All of which are going to require some serious problem solving. As humans, we often turn to tool use to solve our problems. Technology is our latest tool and it is a powerful one, but we must not forget that nature has spent three billion years solving problems, far longer than humans. We can learn from nature, but we need to make sure that our young people retain their curiosity, for with it will come perspective.
I wrote my first book, How To Be An Explorer, for this very reason. For months I wrote down every outdoor skill I had enjoyed as a youngster, and the stories of explorers in history who inspired me. Then I selected my six favorite stories and 25 most rewarding activities, and broke them down into something easy to read and put into practice. Photographs and illustrations followed. Now I'm hoping, really hoping, that the book we've created is enough to spark a curiosity for nature and the outdoors in a few young people's minds. For the true value of curiosity is that it gives you perspective, and the younger you gain perspective, the more freedom of choice you have throughout your life. Freedom of choice is a beautiful thing.
How to be an Explorer by Tiger Cox, Button Books, RRP £16.99, available online and from all good bookshops.