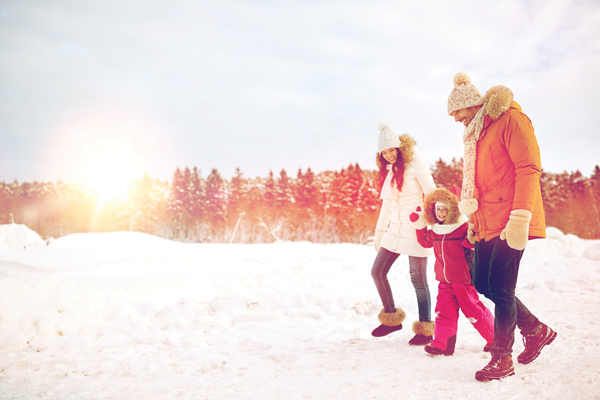 More and more of us are facing the impact of stress, overworking and the demands of everyday life. For example, in a 2018 poll by YouGov for the Mental Health Foundation 74% of UK adults reported having been so stressed at some point over the last year they felt overwhelmed or unable to cope. For many people, lack of exercise, being stuck indoors due to desk-bound jobs or being disconnected from green spaces can be big factors. Such feelings often come into sharper focus during the festive season, when staying on top of all the preparations, and pressures to party and be sociable can also pile in and stress us out.
If this sounds like you, or someone you know, then here's the ideal festive uplift gift – the Festival Of Winter Walks, which will run from 20th December 2019 to 5th January 2020. It's organised by the Ramblers, the charity which helps everyone, everywhere, enjoy walking and protects the places we all love to walk.
Ramblers groups across the UK will offer a warm welcome on hundreds of free festive walks. No matter where you live, and whether or not you've walked before, they'll offer the chance to enjoy the wonderful winter landscape in good company; to relax, unwind and stress-bust, and to make new friends at a time of year when many people can feel anxious, stressed or
even isolated.
There will be fun winter-themed walks that the little ones will love; leisurely strolls under five miles for people new to walking; and longer walks for those that want more of a challenge. For those of you who may be short on time or want a gentler stroll, there will be Ramblers' health walks.
Top tips for getting into winter walking
• Don't worry if you're not a seasoned walker, the Ramblers Festival Of Winter Walks includes lots of short group walks to get you started.
• Enjoy connecting with winter scenery and sounds. Have a mindful walk; slow down from the everyday rush and really take in your surroundings – the whistling wind, or starlings migrating to the UK for winter. Why not take some photos on your phone, and share them at #winterwalks and don't forget to tag The Ramblers@RamblersGB
• Take a flask of warming tea, coffee or festive, hot spiced apple juice with you. Cinnamon sticks, ginger and mulling sachets are readily available from most supermarkets.
• For younger walkers: challenge them to find an interesting stick and become a wizard with a staff. Or find the crunchiest winter leaf, or gather pinecones, which they could paint back at home. There are lots more ideas for winter walking fun in the Festival of Winter Walks guide: www.ramblers.org.uk/foww
• If you enjoy joining a Festival Of Winter Walks event, why not join your nearest Ramblers group on their next walk?
Ramblers have 484 walking groups across the UK, including a growing number for young walkers.
You can find your nearest Ramblers group online at www.ramblers.org.uk