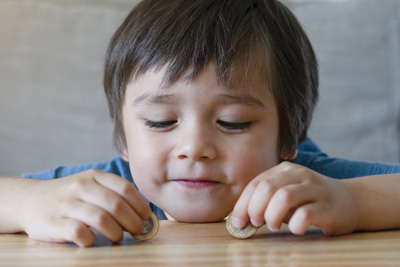 Source: F&C Investment Trust
Children are seeing less actual 'money' nowadays with many adults using cards or apps to pay, so they can grow up far less aware of how to use actual notes and coins. Here are some ways to ensure that children still learn about 'real money'.
1 Make a pretend shop with a pot of coins and sticky note price tags to encourage little ones to play with money.
2 Next time you're at the shops, point out some of the prices on the items and talk about what the symbols mean.
3 Write a shopping list for making fruit smoothies and take it with you to the shops to buy your ingredients.
4 Turn an old cardboard box into a cash machine with buttons and pretend screen for lots of pretend play with money.
5 Place coins under paper and rub with a crayon on its side, what numbers can your child see?
6 Encourage older children to explore ways to make the value of five or 10 using small coins in lots of different ways.
7 Bury coins in sand or mud for little ones to discover and play with, perhaps matching numbers or values.
8 Set up a pretend bank with money, till and paper slips. Why not visit a bank to show your little one where money comes from?
9 Press coins into lumps of play dough to see the impressions and numbers.
10 Turn an old box or tube into a money box for your child's savings.