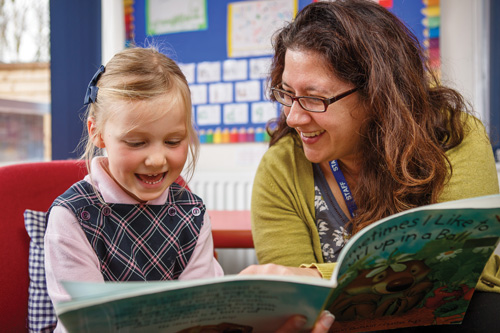 by Deborah Rees
Head of English, Great Walstead School
I am often asked, "What makes a good reader?" or "How can I encourage my child to read more?" Ultimately, there are three essential components to answering these questions. Firstly, stronger readers tend to have competent cognitive reading skills – including good comprehension, phonics and decoding skills. If the foundation skills are sound, the less onerous the reading becomes. Secondly, voracious readers tend to have positive affective processes – including high levels of reading enjoyment, motivation and reading attitude. Finally, 'book worms' have been encouraged to maintain good reading behaviours – including daily, sustained reading outside school, as well as the desire and hunger to read a wide range of texts.
Like many of my generation, without the pleasures and pitfalls of modern technology, I remember curling up in bed under a duvet as a child, and being transported through time and space. Whether it was 'Children of the Dust', 'Eleanor, Elizabeth', or later, 'Jane Eyre', books ignited my imagination, and opened doors to the possibilities of new, exciting worlds and strange, intriguing and sometimes frightening dystopias. The characters I encountered and came to know taught me about people, about real and imagined relationships; and how to negotiate the complexities of the world I live in: all immeasurably invaluable life skills. My parents encouraged reading – any reading, and understood that, in the words of Terry Pratchett "The way to get children reading is to leave the library door open and let them read anything and everything they want." At times, much to my parents' horror (and secret delight), I would read late into the night.
Flash forward a couple of years, and I remember vividly competing in the English Speaking Union's Observer Mace Debating Competition. The motion was that 'The Internet would be the death of independent research'. In effect, in the age of technology, with smart phones and all-singing, all-dancing multi-modal texts, the book will become something of an anachronism. Thankfully it hasn't. Whilst we embrace modern technology, there is a recognition that most digital texts are short, literal, factual and informative. They are designed to be accessible to a wide audience working within time constraints, in our ever-evolving, busy lives. Reading what some might call, "good, old-fashioned novels" concentrates the mind; and that in itself is a necessary and valuable life-skill.
At our school we believe passionately in the importance of a community that celebrates reading for pleasure, recognising that reading for pleasure is the single most important indicator of a child's future success. It enables children to access rich and challenging texts, offers a model for silent independent reading and creates 'texts in common', which encourage the development of reading relationships. The informal, non-structured and often spontaneous conversations between children or between children and adults about their reading are common place in our classrooms, corridors and communal spaces.
We know that international evidence demonstrates that reading for pleasure results in: increased attainment in literacy and numeracy; improved general knowledge; richer vocabulary and encourages imagination, empathy and mindfulness of others. That is why, our philosophy is to enable our pupils to access: diverse and attractive reading materials; space and time to read daily; a free hand to choose what they want to read; engagement with knowledgeable and passionate reading role models and the availability of reading material that is relevant to their everyday lives. Offering opportunities to engage with initiatives such as the Awesome Book Awards and committing to reading the short-list is just one way our pupils' cultural and general knowledge improves by reading stories of a variety of genres and from different cultures. This year's favourite was definitely 'The Switching Hour' by Damaris Young: a compelling narrative reflecting on climate change, family, grief, loyalty and memory.
There is no doubt in our minds that reading for pleasure builds vocabulary and helps our pupils to engage in their lessons confidently. A student who reads one minute a day builds an average vocabulary of 182,500 words; a student who reads twenty minutes a day acquires a whopping 3,650,000 words. Reading to glean vocabulary and understand authorial techniques also helps them to craft their writing. Exposure to challenging new vocabulary extends their curiosity about language; and mirroring sentence structures in well-written books (we call it 'magpieing') helps pupils to articulate themselves precisely, often in imaginative and original ways.
We are often told that "my child isn't reading" or simply asked "what can you suggest for a reluctant reader?" We know that a well-stocked library, access to suggested reading lists, enthusiastic and passionate staff with thorough knowledge of literature for young people and understanding of individual's preferences (knowing your child like you know them) can and do make a real difference to engagement with reading for pleasure. However, a culture of 'book-talk', recommendations and 'texts in common'; in short, pupil celebration of reading for pleasure is instrumental to success. Reading does matter; and we encourage our pupils to celebrate it.
A very wise colleague, once likened the process of reading for pleasure to the act of marathon running. Reading (even for pleasure) requires patience and stamina, persistence and endurance. Although the story may be riveting and gripping, a real page-turner, it may also be challenging; much like the rich tapestry of all of our lives. Building reading resilience and knowing that reading for pleasure may require commitment is central to our approach. In the words of Neil Gaiman, our hope is to "give our children a world in which they will read and be read to, and imagine and understand."
Great Walstead School has a unique environment, where we can offer our children the opportunity to learn in a wide range of ways. Whether they thrive in an outdoor, forest school setting; or love creative arts, sports or learning in a classroom, we have it here at Great Walstead!