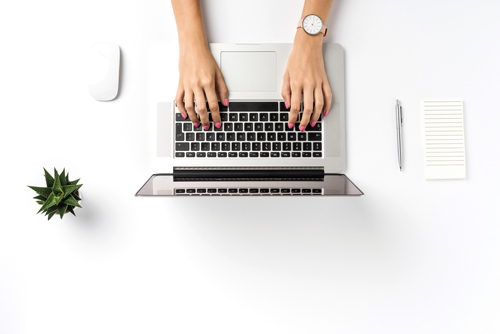 by Emma Cleary
Flexibility Matters
A smart approach to work is critical right now, whether you're looking for a completely new challenge with hours that suit you, or you want to freshen up your existing arrangement.
Over the pandemic, at Flexibility Matters we ran 20 online seminars where we were joined by industry leading specialists sharing their best tips on tackling the challenging work environment we were facing. From mentoring through furlough and redundancy to creating a killer CV and mastering LinkedIn, we continued to support both our candidates and clients with the tools to thrive. Here, we've picked out our favourite directives for you to be #worksmart and #workready right now.
LinkedIn. The must-have tool for getting yourself a job…
Kerry Watkins, Founder and MD of Social Brighton, advised that the key to creating the ideal LinkedIn networking profile is to treat it as you would a real-life networking event, to ensure you make more meaningful connections and see greater impact. Kerry says: "Your profile, in a nutshell, needs to highlight what you want people to know about you and how you want them to feel about you. It then needs to be easy for them to do what you want them to do." Kerry's top tips include:
• The headline is your badge at a networking event. It will follow you around the room, so the 120 characters need to state exactly what you do and be compelling.
• The about section is your chance to expand on your headline with the top three things you want people to know, feel and remember about you. These can be your skills, approach to work or personality, but they need to be authentic.
• The featured section backs up the 'about section', making your profile more colourful. Add to it articles you have written, videos you have made or projects you have worked on.
Creating a killer CV that beats the bots…
Ali Waters, Recruitment Trainer and Consultant, took us through how to work around the automated CV rejecter algorithms, and once through to human eyes and interview stage, what an employer really wants to know.
Ali points out that, the automated CV gatekeepers strip out the formatting of CVs and cover letters and scans for keywords that match the job specification, scoring accordingly. So, customising each of your applications is extremely important. This can be done by mirroring the keywords found in the job spec within your CV and focusing on hard skills – job-specific abilities or knowledge learned through education. #toptip: Copy and paste the job description into an online keyword generator and use the results within your application.
To impress the human eye, make sure your CV is simple, concise, and achievement-based, avoiding cliches such as 'attention to detail' and 'good team player'. Also, the career summary list of responsibilities and achievements needs to be re-prioritised according to the job specification list of requirements.
At interview stage Lynn Tulip RCDP, Career Transition Coaching recommends, firstly, celebrating reaching interview stage as that's a win in itself. She also points out that you are interviewing the business as much as they are interviewing you – so think about whether you fit with them culturally and in terms of beliefs and ethics.
Ask yourself, can you do the job? And do you really WANT the job? Research the company and the job requirements and practice the open, closed, behavioural, situational and competency questions in combination with your CV – examples and evidence are critical. #toptip: Connect with employees who already work at the company you want to work for.
Embracing change and pivoting your career
Lucy Freeborn from North Star Consulting, a life-coach specifically trained to help women switch up their lifestyles, took us through the fundamentals on how to pivot our careers and change direction.
As a first step, we were introduced to the Kubler-Ross Change Curve, which explains that change is a process and one we will always move through. By taking control of this process, we are then empowered to see beyond the 'shock' of an initial big change and see the bigger picture of what could lie beyond.
When identifying our values and passions, Lucy explains that our values are our sacred ground and the way to measure our own success. Staying in a profession, a relationship or a situation that doesn't sit well with our values leads to discomfort or 'hollow' success. Reconnecting with our values will help to establish what direction we should go in.
Creating realistic goals and putting a robust plan in place allows us to make big changes to our professional life as it forces us to recognise what has stopped us from achieving success in the past, so we can seek the support needed for it not to happen again.
For more on being #worksmart and #workready, see our full suite of expert tips on our website: www.flexibilitymatters.co.uk/news
Flexibility Matters match talented professionals with roles outside of the 9-5, from full-time flex to part-time and consultancy, devising a flexible working strategy that suits both businesses and employees. Register on www.flexibilitymatters.co.uk or get in touch directly on email: emma@flexmatters.co.uk.