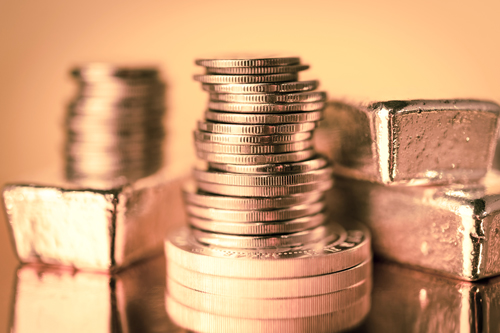 by Hamzah Almasyabi
CEO at MintedTM
Sometimes the run up to Christmas can feel more like a marathon than a fun, festive season and it can be easy to be swayed into panic-buying armfuls of gifts that often end up unused. In a bid to cut down on clutter and help protect the environment, parents and grandparents are looking for new ways of gifting to children, virtually or otherwise. The wider market contains everything from Premium Bonds to shares but, in a climate of stock market volatility and low interest rates, could precious metals, such as gold bullion be a safer bet to gift on the big day?
Gold was one of the first precious metals to be used as a trading commodity and, to this day, remains one of the most stable and reliable investment choices. And it's not just adults that love gold. Many children's books tell stories of the precious metal – from pirates to royalty – and, in sport, a gold medal has always been associated with winning. From a very young age, the value of gold has been ingrained in most people's minds.
While it undoubtedly looks attractive, perhaps the biggest selling point is that through the years, gold has served as a hedge against inflation and the erosion of major currencies. As a tangible asset, investors can handle their physical gold and store it as they wish, or even sell it if needed. Gold doesn't just sit there gathering dust – it also gathers value. While its price may fluctuate, historically and over the long-term, it trends higher. Currently, the average growth rate per year is 9%, considerably greater than bonds or current interest rates. With this in mind, £1,000 invested in gold could be worth around £1,538 after five years – in a sense, it really is the gift that keeps on giving.
As finite resources grow in popularity, more user-friendly and flexible tech-focused routes into precious metal investment are hitting the market, making gifting much easier. For example, investment platforms like Minted make it easy for people to either purchase gold or silver with a lump sum or save set amounts every month, starting from £30. Once enough has been saved for a gold bar, for example, the physical gold can either be stored in a secure London vault or withdrawn – something any child would be proud to own.
The next generation of savings apps and platforms are now adding features, such as reward points for referring friends and family, providing even more of an incentive for parents to start building up points for their children. This means that once they get older, gold holders can connect their payment cards and automatically start receiving points when they spend money; sometimes making up to 10% return, which can be put towards physical gold, or other precious metals.
As well as creating a more financially secure future for children and adults alike, digitally gifting gold and silver also has the potential to help towards a greener future too. By reducing the amount of waste destined for landfills and cutting back on wrapping paper, people can give their family the kind of gift they will not only treasure on Christmas Day but can also watch grow in value year on year.
Despite its high-class status, gold and silver offer far more than just being luxury goods; they can also be a viable investment option for anyone, at any age. As stock markets continue to fluctuate and interest rates fall, the price of gold and other precious metals could remain on an upward trajectory for some time. No matter the state of the current economic climate, gold and silver will always be must-have additions to any investment portfolio. With an ever-expanding list of ways to transfer precious metals virtually, and reap the benefits of doing so, there's no doubt that they make the best kind of gift.
Founded in 2018, Minted is a technology platform where anyone can buy, sell, save and transfer physical gold. With an easy-to-use mobile platform and app, Minted makes buying gold simple, safe and affordable. Customers can set up flexible savings plans and invest amounts of their choice into gold each month. With market-leading buying rates, Minted is the only gold savings app where users can get ownership and delivery of pure 999.9 24kt LBMA physical gold.
Visit www.theminted.com to find out more about buying and saving in gold.